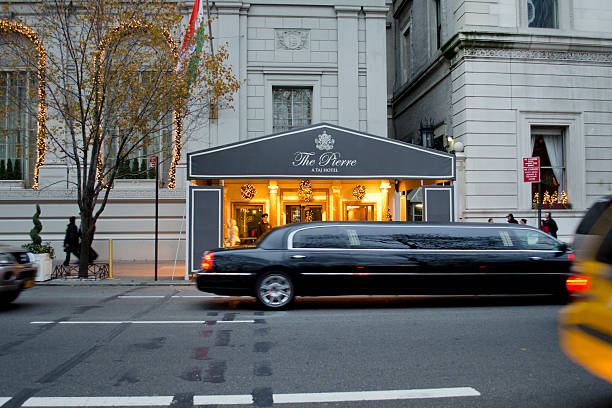 Luxury travel offers a world of opulence, comfort, and unforgettable experiences. From personalized service to exclusive amenities, luxury travel appeals to discerning travelers seeking the utmost in comfort and convenience. In this blog, we will delve into luxury travel hacks that will elevate your journey, focusing on how Supreme Limo Service can maximize your travel experience.
Luxury Travel Hacks for Maximizing Comfort and Convenience with Supreme Limo Service
Luxury travel is not just about the destination; it's about the journey as well. Supreme Limo Service, a leading luxury transportation provider, understands the importance of creating a seamless and memorable travel experience. In this blog, we will share invaluable travel hacks that will help you make the most of your luxury trip, with Supreme Limo Service as your trusted partner.
Your Source of Luxury Transportation Expertise – SupremeLimoService.com
When it comes to luxury transportation, SupremeLimoService.com is your go-to resource. With our years of experience and commitment to excellence, we offer a wealth of knowledge and expertise in the world of luxury travel. Whether you're planning a corporate event, a special occasion, or simply seeking a luxurious airport transfer, Supreme Limo Service has the perfect solution to meet your needs.
By choosing Supreme Limo Service, you gain access to a fleet of top-of-the-line luxury vehicles, professional and knowledgeable chauffeurs, and a range of tailored services designed to enhance your travel experience. Supreme Limo Service is your ultimate destination for luxury travel solutions. Explore our website today to discover how you can elevate your travel experience, maximize your comfort, and provide unparalleled convenience throughout your journey.
The Benefits of Luxury Travel
Luxury travel offers a host of advantages that elevate your journey from ordinary to extraordinary. When you choose luxury travel, you gain access to a world of comfort, convenience, and personalized service that caters to your every need. Let's explore the benefits of luxury travel and how Supreme Limo Service takes it a step further to enhance your overall experience.
Comfort, Convenience, and Personalized Service as Advantages of Luxury Travel
One of the primary benefits of luxury travel is the unparalleled comfort it provides. Whether you're embarking on a long-haul flight or exploring a new city, luxury accommodations, spacious seating, and lavish amenities ensure that you travel in utmost comfort and style. From plush bedding to state-of-the-art facilities, every aspect of luxury travel is designed to enhance your well-being and relaxation.
Convenience is another significant advantage of luxury travel. Skip the hassle of long queues, crowded transportation, and logistical challenges. With Supreme Limo Service, you can enjoy seamless door-to-door transfers, personalized itineraries, and efficient travel arrangements. The convenience of luxury travel allows you to focus on the experiences and create lasting memories.
Personalized service is the hallmark of luxury travel. From the moment you step foot into a luxury vehicle provided by Supreme Limo Service, you'll experience a level of attentiveness and care that exceeds your expectations. Every aspect of your journey is tailored to your preferences, ensuring that your needs and desires are met with precision. Our dedicated and professional staff at Supreme Limo Service is committed to providing a personalized experience that leaves you feeling pampered and valued.
How Supreme Limo Service Enhances the Luxury Travel Experience with Exceptional Services
Supreme Limo Service understands the essence of luxury travel and goes above and beyond to enhance your experience. With our exceptional services, we ensure that every moment of your journey is seamless, memorable, and truly luxurious. Our fleet of high-end luxury vehicles is meticulously maintained, offering you a range of options to suit your specific requirements. Whether you prefer a sleek sedan, a spacious SUV, or a sophisticated limousine, Supreme Limo Service has the perfect vehicle to complement your travel style.
The professional chauffeurs of Supreme Limo Service are trained to provide top-notch service, ensuring your safety, comfort, and satisfaction throughout your journey. Their extensive knowledge of the local area allows them to navigate efficiently, taking you to your destinations with ease and expertise. Supreme Limo Service also offers additional amenities and services to elevate your luxury travel experience. From Wi-Fi connectivity to entertainment systems, our vehicles are equipped with modern conveniences to keep you connected and entertained on the go.
With Supreme Limo Service, you can trust that every detail of your luxury travel experience is meticulously planned and executed, leaving you free to indulge in the ultimate comfort and convenience.
Preparing for Your Luxury Trip
To ensure a smooth and unforgettable luxury travel experience, thorough preparation is key as it can ensure that every aspect of your trip is tailored to your preferences, providing a truly unforgettable experience. Follow these essential tips to make the most of your trip and maximize your comfort and convenience with Supreme Limo Service.
Researching and Planning Your Itinerary to Make the Most of Your Trip
A well-planned itinerary sets the foundation for an extraordinary luxury trip. Research your destination to discover its hidden gems, exclusive experiences, and top-notch attractions. By knowing what the location has to offer, you can tailor your itinerary to suit your preferences and make the most of your time. Supreme Limo Service seamlessly integrates with your plans, providing efficient and comfortable transportation between destinations.
Booking Luxury Limo Service in Advance through the Supreme Limo Service Website
One of the key elements of luxury travel is reliable and luxurious transportation. Book your luxury limo service in advance through the user-friendly Supreme Limo Service website. Supreme Limo Service offers a user-friendly website that allows you to book your luxurious limousines in advance. Select the vehicle of your choice, specify the dates and times of your travel, and customize your preferences.
By booking in advance, you secure your desired vehicle and avoid any last-minute availability issues. Supreme Limo Service's fleet of luxury vehicles ensures that you'll travel in style and comfort, adding an extra touch of sophistication to your journey.
Tips for Communicating Preferences and Special Requests for a Customized Experience
Supreme Limo Service understands the importance of personalization in luxury travel. When booking our services, take advantage of the opportunity to communicate your preferences and special requests. Whether it's a specific limousine model, preferred amenities, or additional services, Supreme Limo Service goes above and beyond to cater to your needs. Our attentive staff will ensure that every aspect of your transportation experience aligns perfectly with your desires, creating a truly customized and exceptional journey.
Supreme Limo Service's Customer Support for Planning and Coordination Assistance
Supreme Limo Service understands that planning a luxury trip can be complex. That's why our dedicated customer support team is available to assist you every step of the way. Whether you need guidance in selecting the right vehicle, require assistance with planning your itinerary, or have any questions or concerns, our knowledgeable staff is ready to provide the necessary support.
With Supreme Limo Service's customer support, you can navigate the planning and coordination process with ease, knowing that you have a reliable partner to rely on for a seamless and enjoyable luxury travel experience. Visit SupremeLimoService.com to access our intuitive online booking system and take advantage of our exceptional customer support, ensuring a stress-free and customized luxury travel experience.
Making the Most of Your Limo Experience
A luxurious limo ride is not just about getting from point A to point B; it's an experience in itself. To truly maximize your limo experience with Supreme Limo Service, consider the following:
Various Amenities and Features Available
Supreme Limo Service takes luxury to the next level with our fleet of premium vehicles equipped with an array of amenities. Depending on the vehicle you choose, you can enjoy features like plush leather seating, climate control, privacy partitions, ambient lighting, and more. The opulent interiors of our limousines are designed to provide you with a comfortable and lavish experience, ensuring that every moment of your journey is memorable.
Tips for Maximizing Comfort during the Ride
To enhance your comfort during the limo ride, pay attention to certain factors:
Temperature Control: Supreme Limo Service's vehicles offer individual climate control, allowing you to set the temperature to your preference. Whether you prefer a cozy warmth or a refreshing coolness, adjust the climate settings to ensure a comfortable ambiance throughout your journey.
Seating Position: Experiment with different seating positions to find the one that suits you best. Some limos offer reclining seats or even massage features, enabling you to relax and unwind during the ride.
Communication with Chauffeur: If you have any specific comfort requirements, communicate them with your chauffeur. They are trained to provide a personalized experience and can assist with adjusting the temperature, seating, or any other requests you may have.
Importance of Effective Communication with Chauffeur
A smooth and enjoyable limo journey relies on effective communication between you and your chauffeur. They are highly experienced professionals dedicated to ensuring your comfort and satisfaction. Communicate your preferences, such as preferred route or any specific stops you wish to make along the way. Clear and open communication helps the chauffeur tailor the journey to your needs, guaranteeing a seamless and delightful experience.
Additional Services Offered
Supreme Limo Service goes above and beyond by offering additional services to make your journey even more enjoyable. These services may include following depending upon the package you choose:
Wi-Fi: Stay connected throughout your ride with complimentary Wi-Fi access provided by Supreme Limo Service. This allows you to catch up on emails, browse the internet, or stream your favorite entertainment.
Entertainment Systems: Some limos are equipped with state-of-the-art entertainment systems, complete with high-definition screens, surround sound, and multimedia connectivity. Sit back and enjoy your favorite music, movies, or TV shows during the journey.
Refreshments: Many of Supreme Limo Service's luxury vehicles offer refreshment amenities. Indulge in complimentary beverages and snacks, ensuring you feel refreshed and pampered throughout your ride.
Insider Tips for Luxury Travelers:
As a luxury traveler, paying attention to certain details can significantly enhance your experience filled with comfort and convenience. To help you make the most of your luxury journey, we have gathered some insider tips and recommendations. We will explore how Supreme Limo Service can enhance your travel experience, as well as provide valuable suggestions for packing, local attractions, and the advantages of hiring a professional chauffeur. Here are some insider tips to consider:
Insider Tips for Getting the Most Out of Your Luxury Travel Experience
Packing Essentials: When traveling in luxury, it's essential to pack carefully. Bring versatile and stylish outfits suitable for different occasions. Consider packing items that can be mixed and matched to maximize your wardrobe options. Don't forget to include high-quality accessories and comfortable shoes for a well-rounded ensemble.
Dress to Impress: Luxury travel often involves fine dining, upscale events, and glamorous experiences. Plan your outfits accordingly, aiming for elegance and sophistication. Research the dress codes of your destinations to ensure you are appropriately attired for any exclusive establishments you may visit.
Recommendations for Local Attractions, Restaurants, and Activities
To fully immerse yourself in the luxury travel experience, explore local attractions, restaurants, and activities aligned with opulence and indulgence. Research exclusive establishments known for their exceptional service and exquisite offerings. Seek out renowned fine dining establishments, luxurious spas, high-end shopping districts, and unique cultural experiences. Supreme Limo Service can provide valuable recommendations tailored to your preferences, ensuring that you have access to the best that your destination has to offer.
Advantages of Hiring a Professional Chauffeur
One of the key advantages of luxury travel is the convenience it offers. Hiring a professional chauffeur from Supreme Limo Service allows you to explore your destination with ease and style. Some benefits of hiring a chauffeur include:
Stress-Free Navigation: Sit back and relax as your chauffeur takes care of the navigation and driving. This allows you to enjoy the scenery, attend to important matters, or simply indulge in the luxury of being chauffeured.
Local Expertise: Chauffeurs from Supreme Limo Service are highly knowledgeable about the local area. They can provide valuable insights, recommend hidden gems, and suggest the most efficient routes, ensuring that you make the most of your time in the destination.
Safety and Security: Traveling in an unfamiliar city can be challenging, but with a professional chauffeur, you can rest assured knowing that you are in safe hands. Supreme Limo Service prioritizes your safety and ensures that you reach your destinations safely and securely.
Safety and Security
When it comes to luxury travel, safety and security are paramount. As a discerning traveler, you deserve peace of mind during your journey. Let's delve into the safety measures implemented by Supreme Limo Service to ensure passenger well-being. Additionally, we will provide valuable tips for ensuring personal safety during your luxury travel experience:
Safety Measures Implemented by Supreme Limo Service
Supreme Limo Service is dedicated to providing a safe and secure travel experience. We implement various safety measures to ensure passenger well-being. These measures may include:
Routine Vehicle Maintenance: We maintain our fleet of luxury vehicles to the highest standards. Regular inspections and maintenance procedures are conducted to guarantee optimal performance and passenger safety.
Advanced Safety Features: Our vehicles are equipped with advanced safety features, such as airbags, seat belts, and state-of-the-art braking systems. These features contribute to a secure and protected travel environment.
Stringent Sanitization Protocols: In light of the ongoing global health situation, Supreme Limo Service has implemented rigorous sanitization protocols. We adhere to industry best practices, ensuring that our vehicles are thoroughly cleaned and sanitized between each trip, prioritizing your health and well-being.
Professional Training and Background Checks
Supreme Limo Service maintains a team of highly trained and professional chauffeurs. They undergo comprehensive training programs to enhance their driving skills, customer service, and knowledge of safety procedures. In addition, Supreme Limo Service conducts thorough background checks and screenings to ensure that our chauffeurs are trustworthy and reliable. By prioritizing professionalism and accountability, Supreme Limo Service ensures that you are in safe hands throughout your luxury travel experience.
Tips for Ensuring Personal Safety during Luxury Travel
While Supreme Limo Service takes every precaution to ensure your safety, it is important to take personal measures as well. Consider the following tips:
Secure Your Valuables: When traveling with valuable items such as jewelry, electronics, or important documents, keep them securely stored in the provided compartments or lockboxes within the limousine. Avoid displaying valuable items openly to minimize the risk of theft.
Stay Vigilant: Maintain awareness of your surroundings, both inside and outside the limousine. Be cautious when interacting with strangers and avoid sharing personal or sensitive information with anyone you do not trust.
Keep Important Contacts Handy: Ensure that you have the contact information for Supreme Limo Service readily available. This way, you can quickly reach out to our customer support in case of any concerns or emergencies during your journey.
Safety and security are of utmost importance when it comes to luxury travel. With Supreme Limo Service, you can rest assured knowing that your well-being is our top priority. Through stringent safety measures, professional chauffeurs, and personal precautions, your luxury travel experience will be both comfortable and secure. Prioritize your safety and enjoy a worry-free journey with Supreme Limo Service. Visit our website today to begin planning your next luxurious adventure.
Conclusion:
Are you a discerning traveler seeking the ultimate luxury travel experience? Look no further than Supreme Limo Service. Luxury travel provides a range of benefits, including personalized service, exclusivity, and unmatched comfort, and with Supreme Limo Service, these benefits are elevated to new heights. Our commitment to excellence, luxurious fleet, professional chauffeurs, and attention to detail enhance the overall travel experience, making every journey a memorable one. In this blog, we have explored a range of luxury travel hacks to help you maximize your comfort and convenience when traveling with Supreme Limo Service.
Recap of luxury travel hacks for maximizing comfort and convenience with Supreme Limo Service
From pre-travel planning to exclusive experiences, let's recap the key points and benefits of luxury travel with Supreme Limo Service.
Pre-Travel Planning: Booking in advance ensures guaranteed availability, especially during peak travel seasons.
Onboard Comfort and Amenities: Supreme Limo Service's fleet of luxurious vehicles is equipped with plush interiors, climate control, and state-of-the-art entertainment systems, ensuring a comfortable journey.
Seamless Airport Transfers: Supreme Limo Service specializes in airport transfers, providing punctual and stress-free travel experiences.
Professional Chauffeurs: Supreme Limo Service's chauffeurs are highly trained professionals who prioritize your safety and comfort.
Exclusive Experiences: Supreme Limo Service goes beyond transportation, enhancing your special occasions and events with our expertise.
As a luxury traveler, you deserve the best. By following the luxury travel hacks discussed in this blog and booking with Supreme Limo Service, you can ensure maximum comfort and convenience throughout your journey. Don't miss out on the ultimate luxury travel experience. Visit Supreme Limo Service's website today and embark on a journey of luxury, comfort, and personalized service.